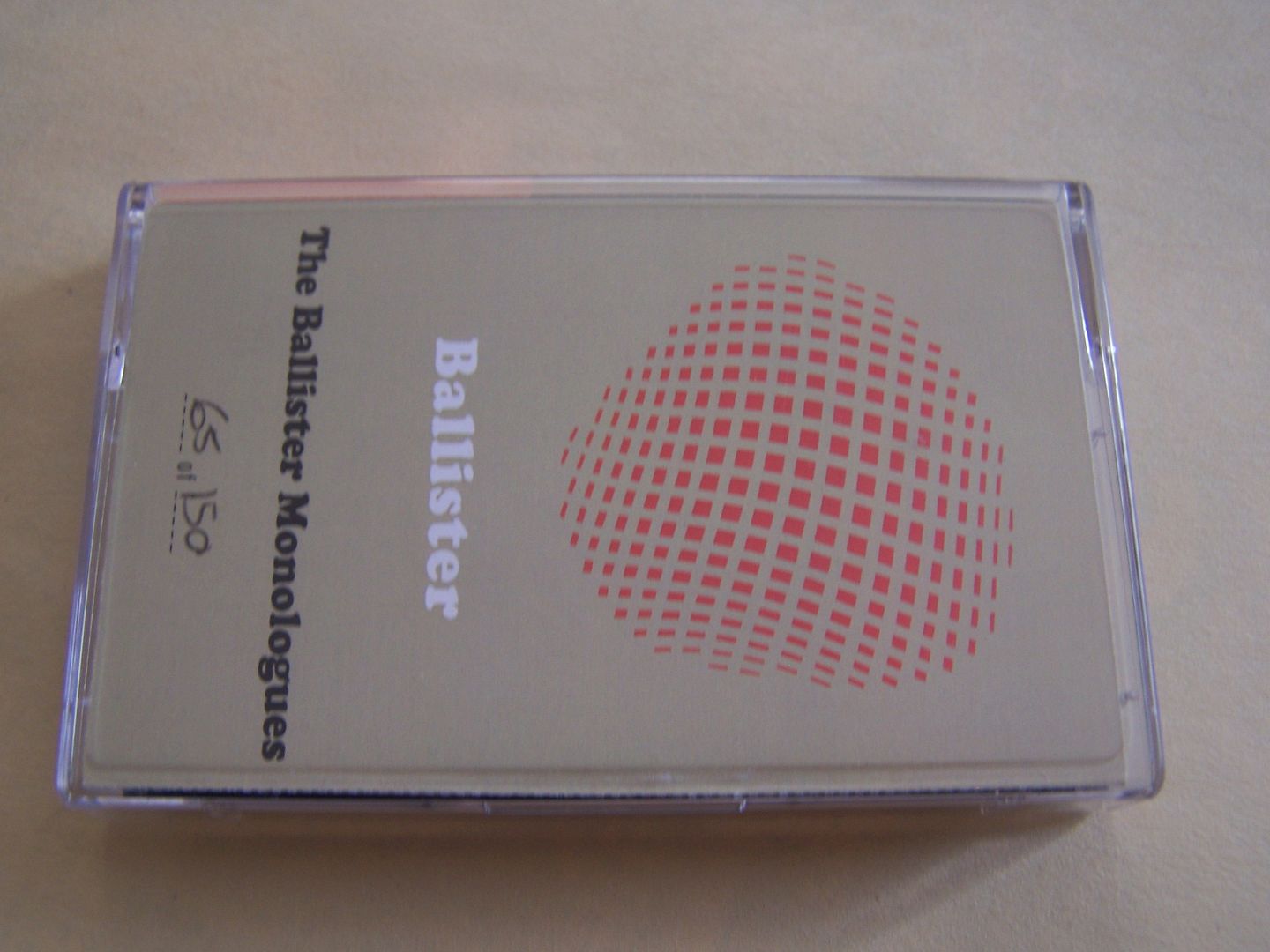 [$7 // Edition of 150 //
http://monofonuspress.com/store/ballister-2
]
Whenever I see this cassette and my notes associated with it and all the first thing that comes to my mind is the pop punk band Allister. I have a great deal of history with that band I won't get into here, and I'm sure there is a reason why this is called Ballister, but it's just strange that this would come to me around the same time that Scotty from Allister would start following me on Twitter, as I haven't really thought of that band in years and years.
The first thing that I need to say about this is that it has elements of jazz because of all the crazy horns and what not and as such I can only hope to one day learn more about jazz by listening to more jazz artists and then being able to compare this with those artists as such. Jazz, country and classical are three genres I feel I don't know a lot about but jazz is the one I want to learn more about the most followed by classical and I have no real desire to learn more than what I already know about country music. (You got Willie Nelson and his outlaws, you'll be all right)
This begins with a great flurry of jazz sax and drums. It has that full band sound that gets right in your face and makes itself known. While there are other similar artists you could put in the genre that combines jazz and noise for whatever reason, Ballister has a bit more structured sound that seems to stem more closely to traditional jazz. (More so than what I'm used to hearing at least)
Before this slows down it can sound somewhere between instrumental versions of Dillinger Escape Plan and Sweep the Leg Johnny which, yes, are the two most recognizable names I can compare this with right now. As it does get quieter there are softer screeches, violin harmonies and then the notes begin to descend in a car horn manner. It's a saxophone, sure, but it's not the alto sax, which is what is typically heard, but rather one closer to bass. (Tenor sax?)
Side B only confirms what I feel about this music as being live and improvised, recorded in one take as it begins in the setting of a live crowd. Granted that doesn't mean it had to be improvised but I still like to think that it was on some level just because it makes it that much more remarkable.
If I had the knowledge to tell you- and I unfortunately don't- this would probably be easily compared with some older, rougher demos of some classic jazz musician but just know that it is what you often hear with that live/improv/jazz/noise type of artist only much more heavier on the jazz side of things than otherwise.