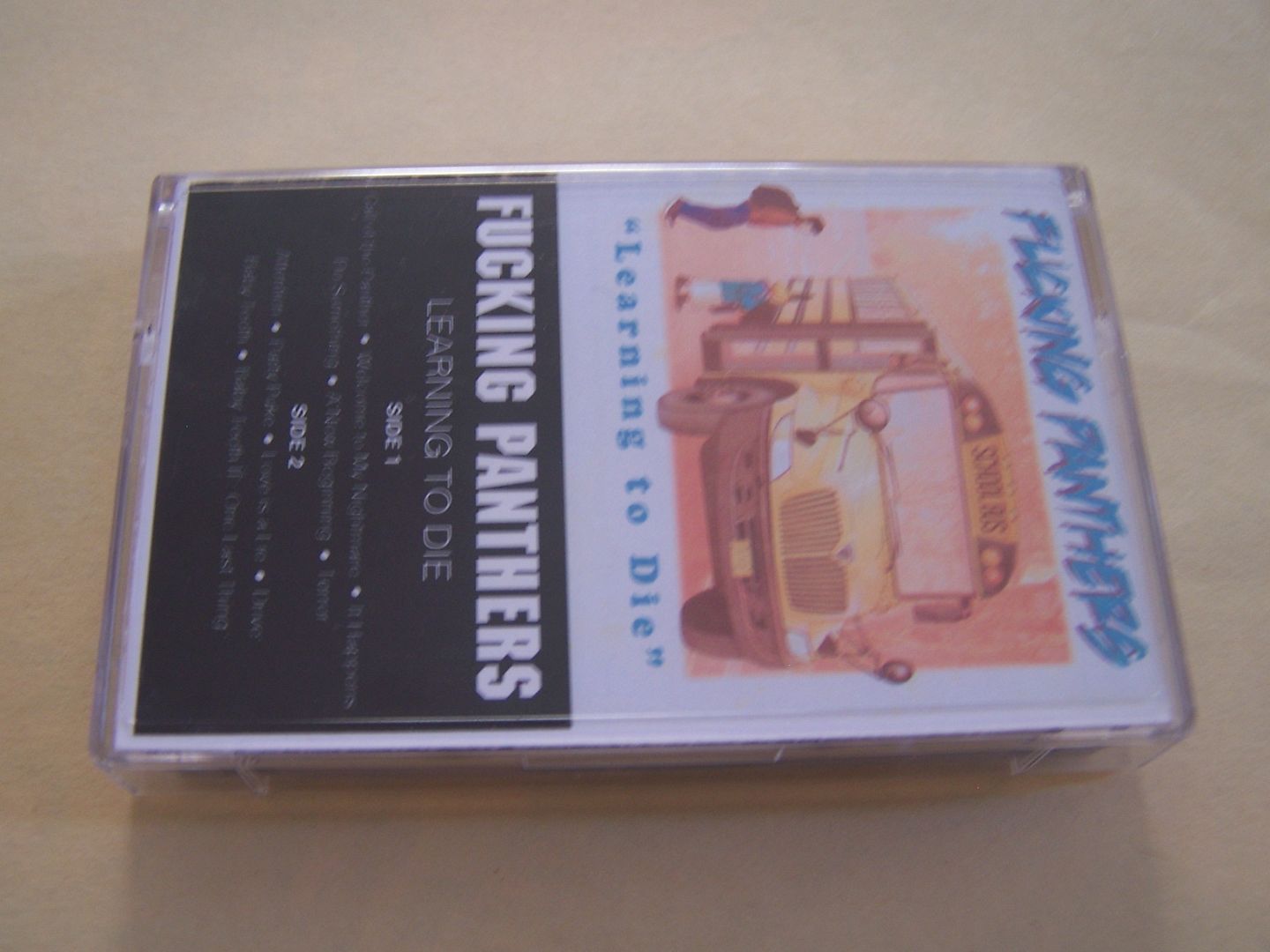 [$4 // Edition of 50 //
https://blackjawrecordss.bandcamp.com/album/the-fucking-panthers-learning-to-die
]
Please Note: As of this writing there exists a Holiday Discography Sale, which will allow you to purchase this cassette as well as many other fine releases from Blackjaw Records for one low price. Get it before it's gone:
https://blackjawrecordss.bandcamp.com/merch/holiday-discography-sale
As I sit here typing this, it is still December 2014 and Christmas hasn't even come yet but I know that this will most likely be among the first reviews I post in 2015. So as perhaps my first cassette review to be posted in 2015 I'd like to share this little piece of trivia with you that most people probably assume anyway. The question often times is: How do you find cassettes to review? The answer is simple. I got to the Bandcamp home page, then under "Discover" I search for "new arrivals", "cassette" and "today". What's funny though is that this very search idea brought me to this cassette by The Fucking Panthers called "Learning to Die" and it is from 2011. I know I found it on there some time during 2014, probably in either December or November, so how this happened I'm not entirely sure. But much love to Blackjaw Records for not being dicks about it and telling me to review something more recently released (If music is good enough it is timeless, people!)
The music of The Fucking Panthers is hardcore punk at its roots. There is no definitive band to compare them to specifically, as they have seemingly crafted their own sound, yet there are certainly influences that come into play. Right away I can feel the presence of Electric Eel Shock, Rise Against and Anti-Seen. I can also hear bits and pieces of Against Me!, though I've only really heavily listened to their album "As the Eternal Cowboy" so it's mostly based on that particular album as opposed to an entire career span.
Bands like New Bomb Turks and Guttermouth can come out just as well, as this is raw like Bullets & Octane mixing it up with Silent Drive. There is some Pennywise in here also, but only enough to let you know that these guys grew up listening to them and don't want to necessarily be them. On a song such as "It Happens" though you can hear a strong influence in the verses of Butthole Surfers while it kicks into a screaming chorus that could be closer related to Suicidal Tendencies.
What I like best about this cassette, even though it does just flat out rock, are the lyrics. Sometimes the subject matter is political and why not, but a lot of it is just revolving around the central notion of not knowing what to do with your life or knowing what life is about per se, but wanting to find that meaning and purpose-- that something bigger than all of this. As this was originally released back in 2011, it was actually December of that year so it is about three years ago as I sit here and type this and that isn't too long of a time for things to change too drastically- at least not in that respect (We are all still searching for something more, probably always will be I suppose)
At the conclusion of the first side, The Fucking Panthers take us into an 8bit type of instrumental loop which then turns into the theme song from "America's Funniest Home Videos". This becomes some more singing and screaming, the likes of which feels like studio outtakes and quite possibly goes on for longer than the first six songs but does add something extra to the cassette as I believe it is not available to experience digitally.
Overall this is just something you'll want to hear for the hardcore beast that lives inside you coupled with all of those feelings you have of being lost. It just satisfies both musically and lyrically and perhaps best of all it can be played at loud volumes on a cassette without sounding like it's going to blow your speakers or otherwise just losing something. You know, there are certain genres of music I don't feel would be best experienced on cassette and the heavier music gets the more I worry about that transition but this is just raw enough that the transfer is perfect.